Have you used FaceTime calling before? If yes, then you must know how it works! But have you tried to use facetime for having a group call with your friends or family? If yes then you might tried and failed to do so and that's the reason you have landed on this page to know how to make Facetime group call.
Actually, its not a complicated process, and here are some easy steps to make a group FaceTime call with multiple people on your iPhone or iPad.
Steps to Make a Group FaceTime Call: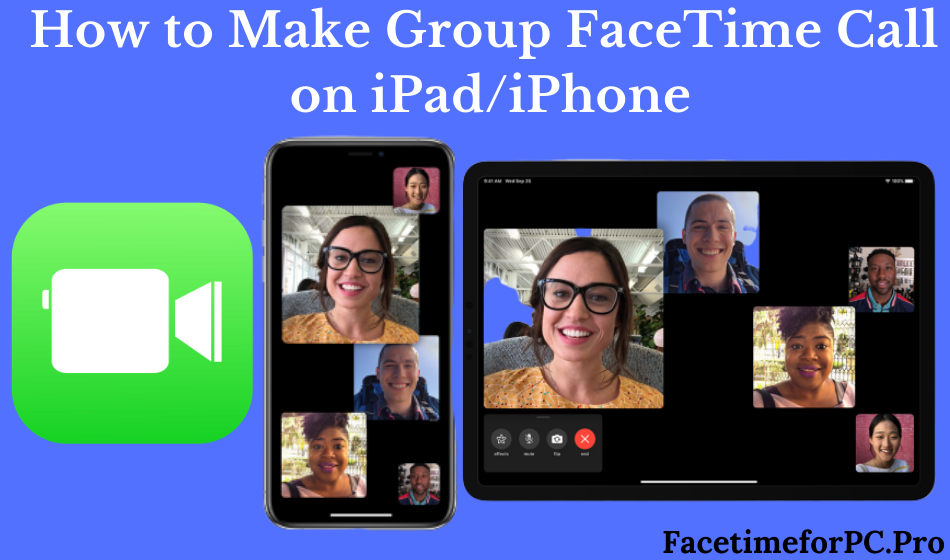 Apple allows you to do group FaceTime calls just like you do a one-on-one call. You can make a FaceTime call if you own an iPhone or iPad because FaceTime works only on iOS devices. You can follow these straightforward steps to make a group FaceTime call.
Find the FaceTime app on your iPad or iPhone and open it.
You will find the + button available in the top-right corner of the app.
Click on the + button and start adding the people you want to be a part of the FaceTime call.
Now click on Audio or Video based on the type of FaceTime call you want to do.
All the selected contacts will receive a notification that you have requested them to join the FaceTime call. Only contacts will be added to the call, that has approved the request to join the room.
Make FaceTime Call Using Messages: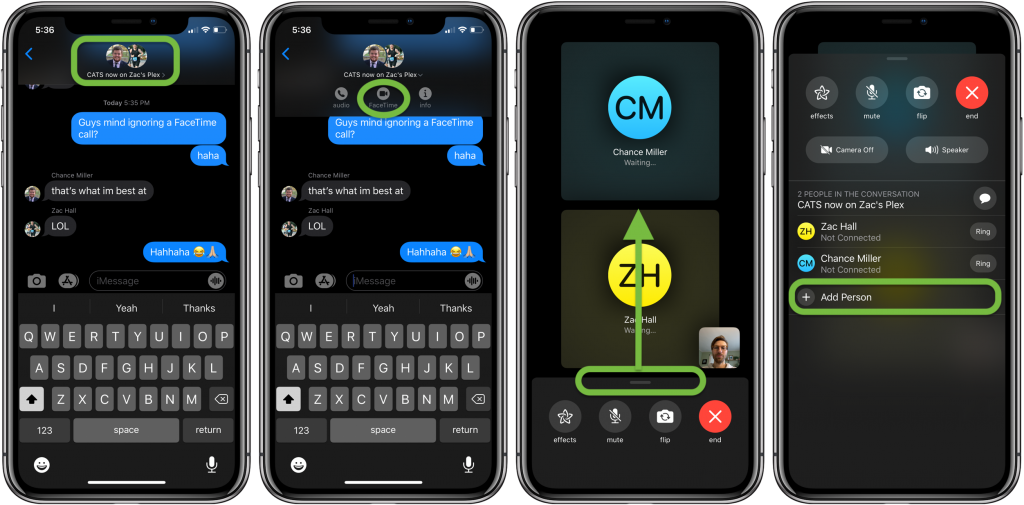 You can even set a group FaceTime call using the Message app if you want. Just follow the below-mentioned steps, and you are good to go.
Open the Messages app on your iPad or iPhone.
You can create a new group or can use the existing one where multiple participants are already added.
You can add or delete the participants if you need to before making the call.
Now click on FaceTime.
All the participants will receive a notification that you have requested them to join the FaceTime call. They can be a part of the call clicking on the Join button.
How Many People Can You Add to The Group FaceTime Call?
Well, that's a great question! You can add up to 32 people to a group FaceTime call at once. It is even more than the allowed participant list of Hangout which supports 25 people.
You can turn off the camera anytime while using some effects during the call. Also, FaceTime allows you to mute the microphone, which is a useful feature while attending business calls.
How to Use Effects During the FaceTime Call?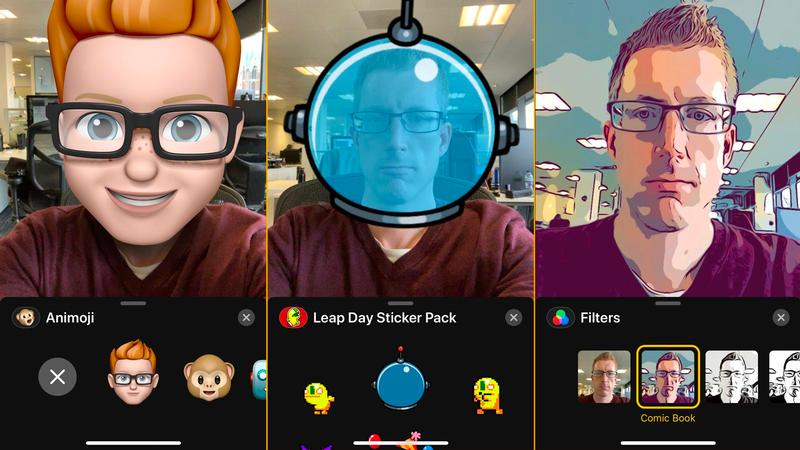 Having a little fun is always a good idea! You can use some camera effects while on the FaceTime call with your friends and family.
If you own an iPhone X or later or an iPad Pro 12.9 or 11 inches, then you can use Animojis. Just click on the effects button available on the screen during the FaceTime call, and you can select from a myriad of different effects available to make the call even more exciting and fun.
Also Read: How to Share Your Screen on FaceTime
How to Disconnect the Call?
Disconnecting the FaceTime call is as easy, as you can do it on the go. All you have to do is tap on the Red X, and the call will get disconnected. You can make the call again if you want following the steps mentioned above on how to make a group FaceTime call.
Can You Add Participants During the Call?
Yes, if you haven't added 32 people before making the FaceTime call, then you can add more during the call. Here is how you can do it.
During the call, click on the screen and then go to the controls.
Swipe the screen up and click on Add Person.
You can type the contact's name or phone number or Apple ID.
Also, you can click on the button if you wish to add people from your contacts.
Click Add Person, and the selected contacts will be added to the existing FaceTime call.
Minimum Requirements to Make a FaceTime Call:
There are some minimum system requirements to use the Group FaceTime feature. Here is what you need if you want to make group FaceTime calls.
Apple promised to release the Group FaceTime feature with iOS Version 12, but failed in doing so! Finally, iOS 12.1 came with Group FaceTime on 30 October, and iOS users around the globe were able to use the feature.
Your device needs iOS 12.1 or above version if you want to use group FaceTime feature.
This also complies with all the participants.
You need an active internet or Wi-Fi connection to start making the call
And that's it! Make sure that you and the participants have set the FaceTime app in their devices. If you haven't set up the FaceTime app yet, then you can follow this process to set it up.
Summing It Up:
Follow the above mentioned simple steps to have a group facetime call with your hand and If you don't have iOS 12.1, then you can upgrade to it, if available for your device. Just go ahead, and call your mates in the time when they need your moral support.
Also please contact us using the contact page if you face any issue or want to suggest anything about this topic.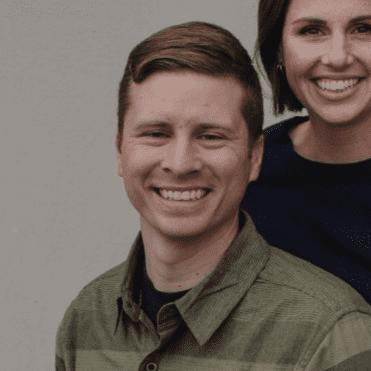 Hi, Welcome to Facetimeforpc Myself Edward, Author and Founder of this blog. Im an application developer and loves to code for software and games. I have started this blog with my friends suggestion as we faced some issues with facetime during our daily chats.